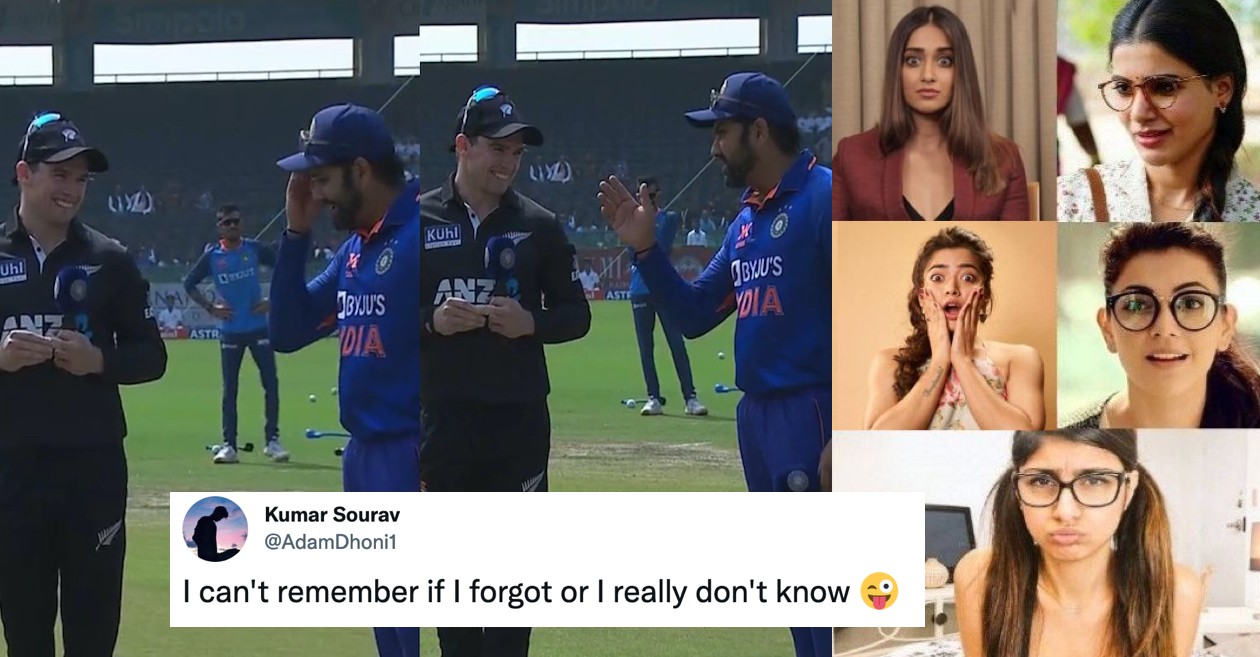 India captain Rohit Sharma won the toss and opted to bowl first in the ongoing second ODI of the three-match series against New Zealand at the Shaheed Veer Narayan Singh International Stadium in Raipur.
However, Rohit had a brain-fade moment at the toss. The 35-year-old took his own sweet time to make the decision and told TV presenter Ravi Shastri that he "forgot" about the team's call. New Zealand skipper Tom Latham found the incident funny as he and Rohit shared a smile between them.
"I forgot what we wanted to do, had plenty of discussions with the team about the toss decision, just wanted to challenge ourselves under difficult conditions, but we'll bowl first. Was a good test for us, knowing that the wicket will get better to bat on and that was the challenge in front of us. Bracewell batted well, but we bowled well in the end and won the game. There was a bit of dew during the practice sessions, but we've heard from the curator that it will not play a role on game days. We batted first in Hyderabad, we wanted to bowl first here, same team," Rohit said at the toss.
Fans on social media have got their fodder for memes thanks to this brain-freezing moment of the Indian skipper.
#IndvsNZ
Rohit Sharma at toss today : pic.twitter.com/SOxMPpSrgW

— Kushagra (@4kushagra5) January 21, 2023
Rohit Sharma: pic.twitter.com/9LBUdvXsI2

— Sameer Allana (@HitmanCricket) January 21, 2023
"We want to…we want to.. bowl first… We want to bowl first"

Rohit after winning the toss: pic.twitter.com/yT3xWdp0pK

— Rohit.Bishnoi (@The_kafir_boy_2) January 21, 2023
Same energy @ImRo45 🤣 pic.twitter.com/XfZUb0Usfg

— DAMANPREET SINGH (@dilmilsingh) January 21, 2023
— Kamal Yadav (@Kamalyadavup72) January 21, 2023
— Cricket Wala Ladka (@cricketwalaldka) January 21, 2023
Javagal Srinath and Tom Latham to Rohit Sharma:- pic.twitter.com/ZsgUb320Au

— Ashish Aggarwal (@ashagg12oct) January 21, 2023
I can't remember if I forgot or I really don't know 😜 pic.twitter.com/tRcsoGmEMZ

— Kumar Sourav (@AdamDhoni1) January 21, 2023
Bhul gaya sab kucch😄 pic.twitter.com/MxU7G3WPTu

— oxygenator (@oxygenator) January 21, 2023
Both teams are fielding with the same playing XI which featured in the first ODI at the Rajiv Gandhi International Stadium in Hyderabad on Wednesday.
Share with a Cricket fan!
Read Next Article
↓↓ Scroll down ↓↓
TAGS: India, INDvNZ, New Zealand, ODI, Rohit Sharma, Tom Latham
CATEGORY: Rohit Sharma, Twitter Reactions
For latest cricket news and updates, subscribe to our Weekly Newsletter.